WACOM CTL-6100WLK-N Wacom Intuos M Bluetooth Black
More Information on Product

Easy to set up and use, Wacom Intuos is designed for those keen to follow their passion. Perfect for anyone drawing, painting or photo editing with their Mac or PC for the first time, it comes with three unique creative applications to help get you started. A pen tablet designed entirely around your passion, Wacom Intuos gives you all the tools you need to enhance your creativity. Whether you love to draw manga art, paint digital watercolors or retouch your photos, you can tailor the pen tablet to suit your style, your way.

Super slim and compact

Tailored for your needs

Built to last
Features
Control and precision thanks to the pen's 4,096 levels of pressure sensitivity.
EMR (Electro-Magnetic Resonance) technology means the battery–free pen is light and comfortable to use.
100 lines per mm recognition lets the tablet know exactly where your pen is.
Just 8.8mm thin, the tablet is as slim and sleek as a smartphone.
2 pen buttons for quick access shortcuts.
4 customizable ExpressKeys™ for faster, efficient shortcuts.
Wireless connectivity thanks to Bluetooth 4.2.
7-inch active tablet area on small model. 10-inch active area for medium models.
Wacom Pen 4K - Yours is a mighty pen
The first thing you'll notice when using Wacom Intuos is how natural it feels. Thanks to EMR (Electro-Magnetic Resonance) technology, the battery free pen with 4,096 levels of pressure sensitivity provides a natural drawing experience that can keep going as long as you do. Whilst its ergonomic design and light weight make it sit comfortably in your hand, allowing you to experience both precision and control.
4,096 pen pressure sensitivity
No batteries or recharging
+/- 0.25 mm digital tolerance in accuracy
7 mm reading height
Strong and stylish
As slim as a smartphone and weighing just 410g, Wacom Intuos is a class apart. It marries durable and robust design with a stylish finish and is available in black and pistachio, colors that will suit any desk.

Features include a built-in pen tray to stop the pen rolling and four customizable short-cut ExpressKeys™.

Don't limit your imagination. Unleash it with Wacom Intuos.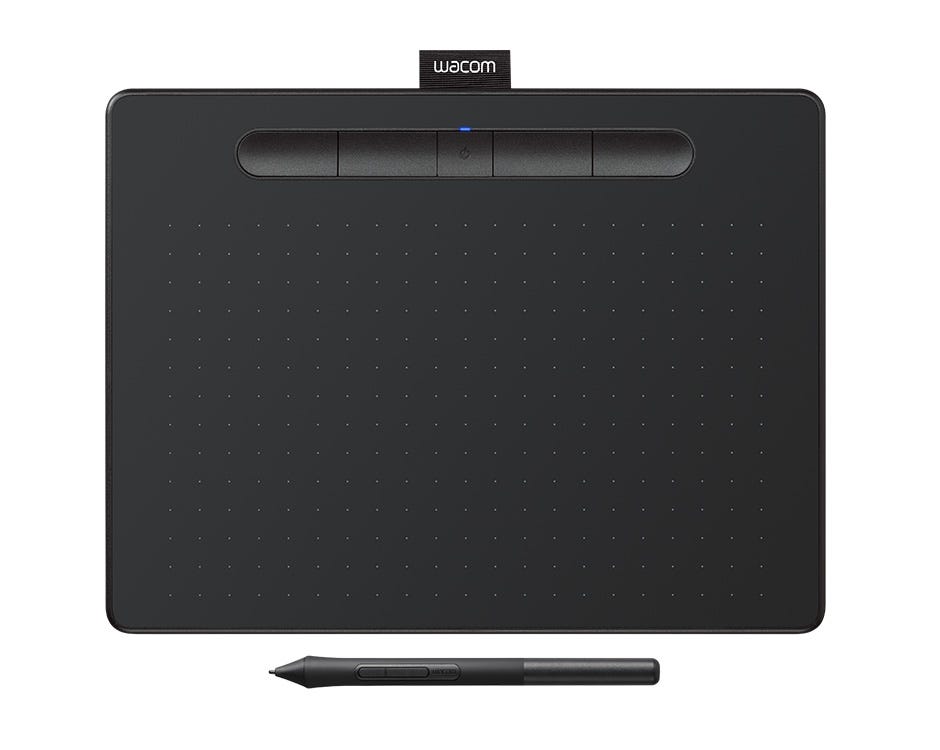 What's included
Pen tablet medium with Bluetooth

Pressure-sensitive, battery-free Wacom Pen 4K

PVC-free USB cable with cable tidy and L-shaped connector

3 extra standard nibs (located inside pen)

Nib removal tool on end of pen

Quick start guide

Regulation sheet

Online User Guide and Important product information found in Wacom Desktop Center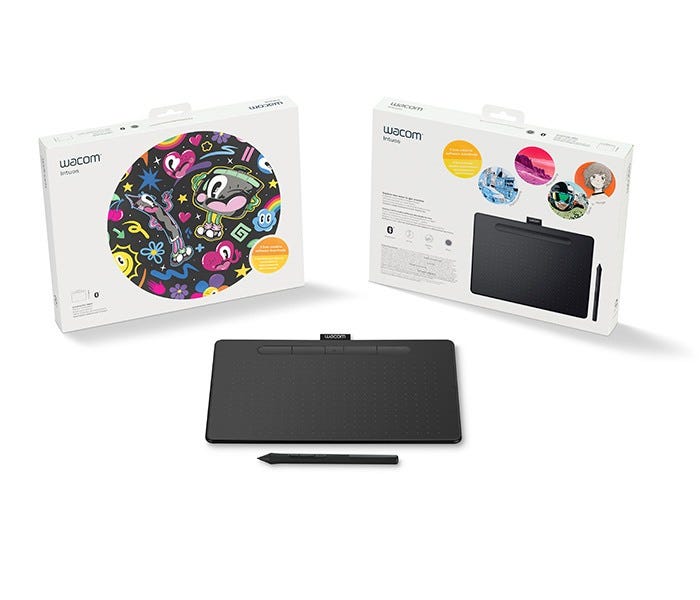 Technical Specifications
Marketing / Product Name
Wacom Intuos M, BT, Black
Product Color
Black

Regional Barcode - EAN (WEG North)
4949268621427
BATTERIES
 
Are batteries included? (Y/N)
Yes, built-in, non-replaceable
Battery Type/Battery Cell Composition
Li-ion
Continuous operation time/Charging Time
15 hours minimum/ Up to 3.5 hours
PRODUCT GENERAL
 
Downloadable software/offers - global
Choose 3 SW from the following:
Illustration:
Corel® Painter® Essentials™ 6
Photo Editing:
Corel® AfterShot™ 3
Comic & Manga:
- CLIP STUDIO PAINT PRO*
- UDM PAINT PRO** (Mainland China Only)
*Clip Studio Paint Pro is a 2-year limited software use license, with the option to upgrade to an unlimited version at a discounted rate or to continue to use it as Clip Studio Paint Debut Version after expiration of the 2-year period.
**UDM Paint Pro is a 180-day limited software use license.
Compatible Accessories
Standard black nibs (ACK20001), Felt Nibs (ACK20003), Flex Nibs (ACK20004), Replacement Wacom Pen 4K (LP-1100K), Tablet Sleeve Medium (coming June/July 2018)
TABLET INFORMATION
 
Active Area
216 x 135 mm
8.5 x 5.3 in
PEN SPECIFICATIONS
 
Pen Name
Wacom Pen 4K
Pen Pressure Levels
4096 on pen tip
Pen Type
Cordless, pressure-sensitive, battery-free pen with built-in pen nib compartment and nib removal tool at end
Pen Technology
Electro-magnetic resonance
Number of Nibs
1 in pen, 3 replacements nibs in nib compartment built into pen
Pen case
No
Pen stand/holder
Pen holder tag
Pen grip material type
Black ABS with rubber painting on front case
PRODUCTIVITY BOOSTERS
 
ExpressKeys
4 customizable application-specific settings
Rocker Ring/Home Button
No
On-screen keypad
yes
OPERATING REQUIREMENTS
 
System Requirements
PC: Windows® 7 or later (excluding Windows 10 S; latest service pack/build)
Mac: OS X 10.11 or later (latest update)
Standard USB Type-A port, Bluetooth Classic for wireless connection, internet access to download driver for tablet to work and to select downloadable software*
*Wacom ID and product registration required. (For China (until July 2018): *Product registration required)
CONNECTION
 
USB port? Y/N
yes - USB type A on PC (Micro USB Type B on tablet)
Cable Type
PVC-free Type A (PC) to Micro USB (Tablet) with L-shape plug and dark silver plating
Cable Length
1.5m/4.9 ft.
Wireless Capability
Yes, Bluetooth Classic
Security
1 tether slot
ON/OFF button
yes
LED
1) Battery Power:
Charging: Orange solid
Low <10%: Orange blink
Full & connected to PC: Orange off, white solid
2) BT Status
BT connecting/ pairing: Blue blink
BT connected: Blue solid
Reset button
Yes, Bluetooth settings are saved
CERTIFICATIONS
 
 
International: CB
US: FCC, CEC (California Energy Commision), Department of Energy (DOE)
Canada: IC, ENERGY EFFICIENCYSTANDARDSREGULATION
Argentine: ENACOM (CNC)
Brazil: ANATEL
Chile: SUBTEL (MTT)
Colombia: Comision de Regutacion de Telecomunicaciones (CRT)
Mexiko: IFETEL
Bolivia: SITTEL
Urguay: URSEC
Costa Rica: SUTEL
Panama: ASEP
Honduras: CONATEL
Nicaragua: Instituto Nicaraguese de Telecomunicaciones y  Correos (Telcor)
Dominican Republic: Instituto Dominicano de las Telecomunicaciones (INDOTEL)
EU/EEA/Switzerland/Turkey: CE
Russia: EAC, FAC, FSB
Kazakhstan: EAC
Ukraine: UKRSEPRO
UAE: TRA
South Africa: SABS (CoC), ICASA
Belarus: STB Scheme
Egypt: NTRA
Pakistan: PTA
China: SRRC(CMIIT)
Japan: VCCI, Radio Act[2.4GHz]
Korea: KC
Taiwan: BSMI, NCC
Australia/New Zealand: RCM
Singapore: IMDA(IDA)
India:WPC
Indonesia: SDPPI(MCIT)
Malaysia: SIRIM (MCMC)
Philippines: NTC
Thailand: NTC
Sri Lanka: TRCSL



---
We Also Recommend