"Bake a cake, bake a cake, The baker has called!"
Easter, Christmas, birthday: Can you smell the tempting aroma of small and large baked goods? Gateaux, sponge cake, marzipan, biscuits and much more – treats that no one can resist and that make your mouth water. Get started on the pastry. Baking is all the rage!
The perfect baking mat
To prevent flour and other baking ingredients from getting all over the kitchen and on the baker, there is the Xavax silicone baking mat. The non-stick coated surface helps you work the ingredients and release your biscuits or pastries easily from the mat, without using baking spray. Roll out the pastry on the mat, shape it and then transfer to the oven! Nothing is left stuck – and your kitchen worktop remains clean. Every ingredient ends up exactly where it should – in tempting and delicious treats which, in the end, you can enjoy.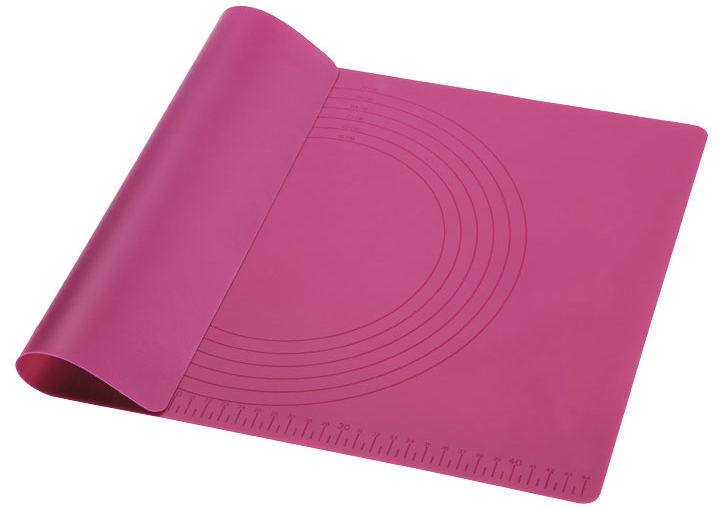 The time-saver
The baking mat can also be used as baking paper, which saves you having to keep on buying it. This is good for your wallet and the environment. The mat withstands all temperatures from -40 to 230 degrees Centigrade. This means you can keep Swiss rolls perfectly in the refrigerator, or bake your favourite cake in a super-hot oven. Prepare and decorate nibbles, bake chips without oil in the oven, or cover the parfait in the freezer – all this is possible with the silicone mat. Then simply clean with a little washing-up liquid and water, or place in the dishwasher. Et voilà – your innovative baking paper is ready to use again.


Too much pastry? And too little shape?
To avoid such problems, there are guide rings with different diameters, as well as scaling in centimetres on two sides. Simply use these dimensions as a guide to roll out the pastry, cut to size, and you have the right shape. The mat itself can also be easily cut and thus used for the springform tin. The advantage: It is then particularly easy to lift the cake out of the tin without half of the cake sticking to it. So from now on, there will be no more despair when baking – just more pleasure!