Transcend - Dashcam DrivePro 550
More Information on Product
Transcend's DrivePro 550 is a dual lens dash camera that provides both drivers and passengers with optimum protection. The front lens features a high-sensitivity image sensor and wide field of view for capturing crystal-clear Full HD 1080P videos at 60fps, while the 180° rotatable rear lens is equipped with four Infrared LEDs, allowing sharp in-car video recordings at night and in low light conditions
Dual lens, double the safety
With its dual lens, the DrivePro 550 provides both drivers and passengers with optimum protection. It comes bundled with a Transcend microSD memory card built of high-quality NAND flash and tested under harsh environmental conditions.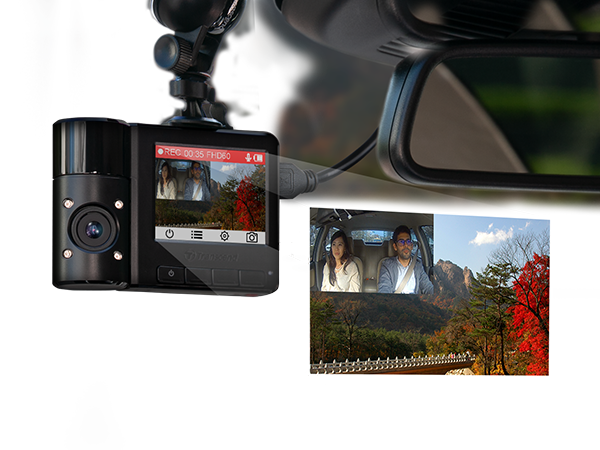 Vision in the dark
The DrivePro 550's front lens is equipped with a high-sensitivity image sensor to capture high-resolution images in superb, rich color even in low light. Supporting 1080P Full HD recording at 60fps, the front lens offers smooth footage as well as crisp still images.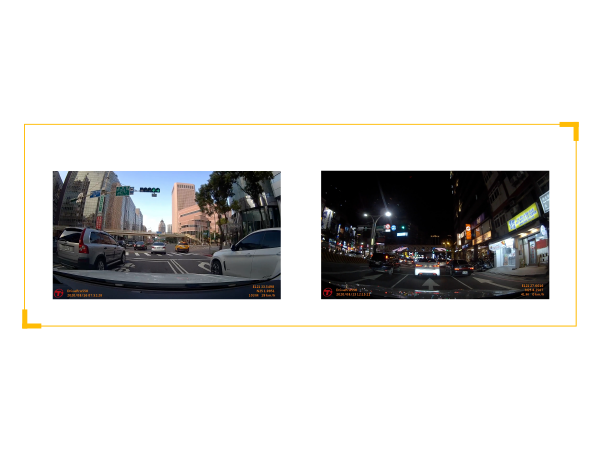 Rear lens with Infrared LEDs
The rear-lens camera can record in 1080P Full HD at 30fps. It has four infrared LEDs that will automatically turn on in dim light. This greatly improves recording quality inside the cabin, even in pitch-black darkness.
Note: Footage recorded with infrared LEDs will be in grayscale.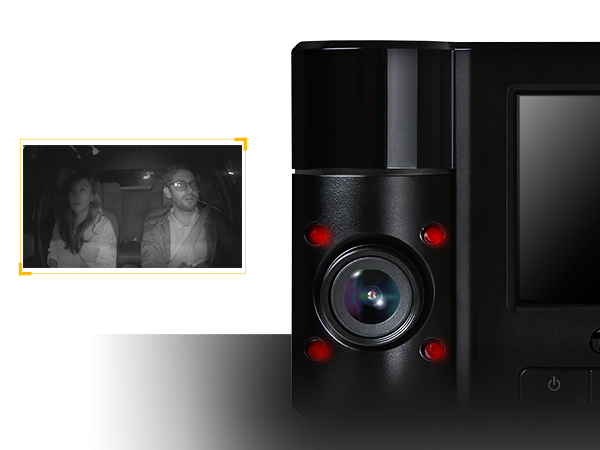 Work safer behind the wheel
The DrivePro 550 also safeguards those who work behind the wheel for a living. Suitable for commercial for-hire transportation, shared transport, and charter services, the DrivePro 550 protects occupational drivers and helps ensure standard operating procedures are followed by drivers working in the taxi, express delivery, truck, and bus industries.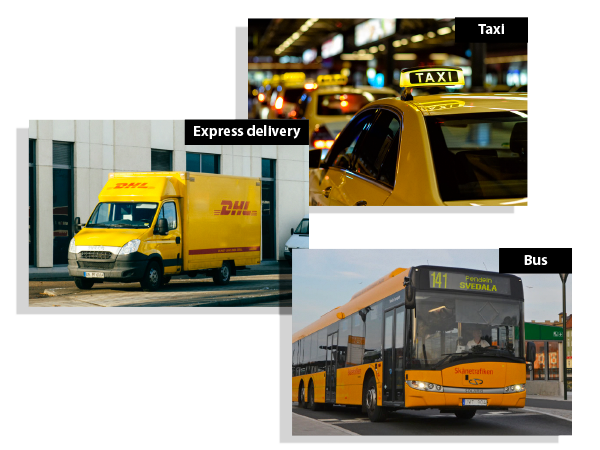 Wi-Fi connectivity
The DrivePro 550 features Wi-Fi connectivity that, through the exclusive DrivePro App, allows real-time footage playback and download. This means ease of access to video evidence for reporting incidents to law enforcement and insurance companies without the need to remove the device's memory card.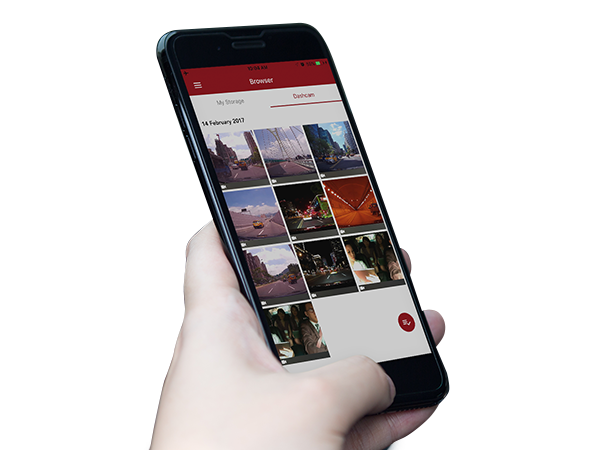 GPS/GLONASS receiver
The DrivePro 550 has a built-in GPS/GLONASS receiver for geotagging videos and images. With the exclusive DrivePro Toolbox, users can view routes traveled on a map display during video playback, making it easy to establish when and where an event occurred.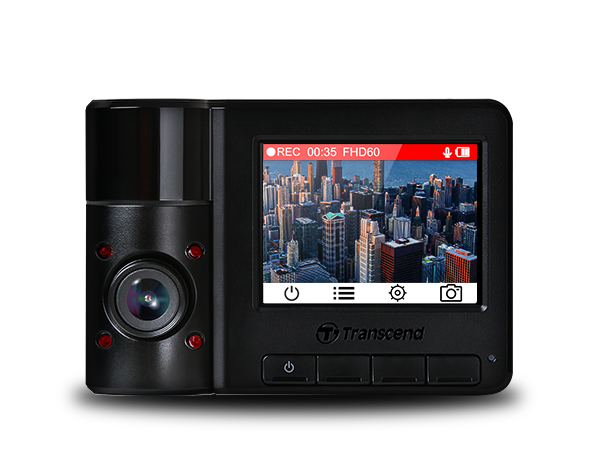 Built-in battery
In the event of a power outage, the built-in Li-Polymer battery can temporarily supply power to the DrivePro dashcam until the files being recorded are safely stored, so to prevent losing crucial images due to file damage.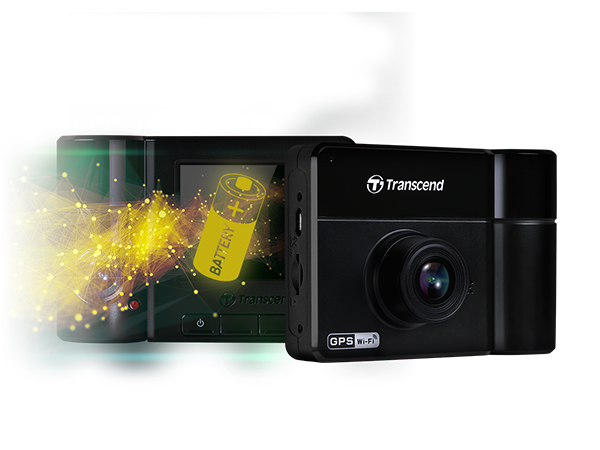 Head-up display
Shows current speed and driver safety alerts, including LDWS, FCWS, speed alert, headlight reminder, and driver fatigue alert.
Parking mode
Activates recording when motion is detected, even when you're away from your vehicle.
Lane Departure Warning System
Prevents accidents by issuing a warning when the vehicle veers out of a lane.
Forward Collision Warning System
Warns the driver when the vehicle is getting too close to the car ahead.
Speed Alarm
Issues an onscreen alert with a warning sound whenever the vehicle's speed exceeds a preset value.
Emergency recording
Prevents overwriting of the file being recorded at the time when the G-sensor detects an impact.
Time-lapse recording
Takes you right to the heart of the matter without needing to view hours of incident-free video.
Headlight reminder
Automatically activates when the DrivePro detects poor lighting conditions.
Driver fatigue alert
Regularly reminds the driver to rest after driving for a self-defined period of time.
Wide Dynamic Range
Balances the light and dark areas of captured images, ensuring that every critical shot is as clear as possible.
Handy snapshot button
Allows you to take photos while recording a video. You can also remove the DrivePro from the vehicle to create a photographic record of collision damage.
Value-added software
Transcend offers free software, DrivePro Toolbox. Featuring video sorting function, smooth video playback, videos editing, screenshot, and map view for models with built-in GPS/GLONASS receivers, it creates more convenient experience for DrivePro users!
For Windows and Mac
Transcend's DrivePro App is designed specifically for use with DrivePro dashcam models featuring Wi-Fi connectivity. It allows streaming and downloading of recorded files to mobile devices quickly and conveniently.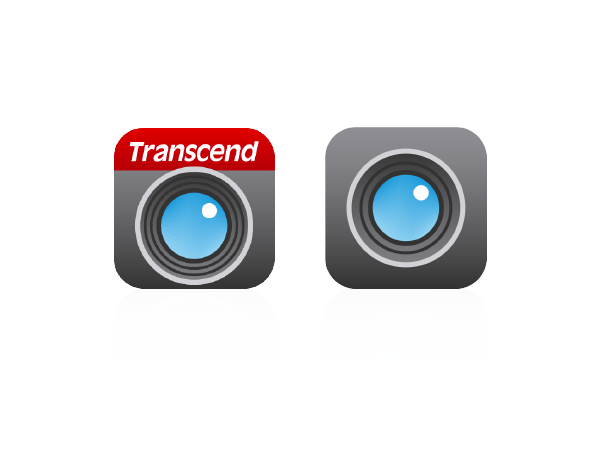 Inside the package
DrivePro 550
microSD memory card
Suction Car mount
Car lighter adapter
Quick Start Guide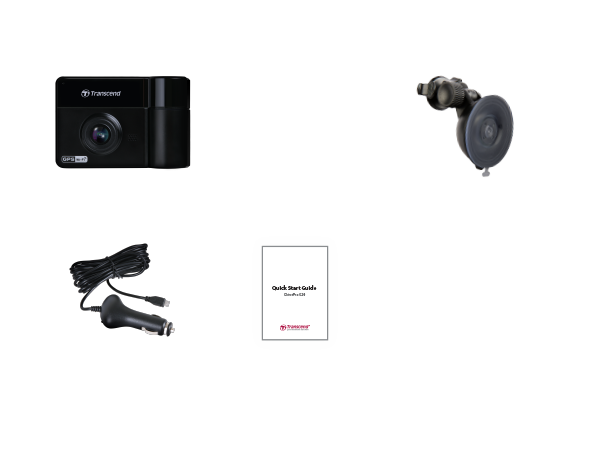 Optional Hardwire Power Cable (micro-USB)
Transcend's hardwire power cable allows users to wire their DrivePro dashcams directly into their vehicle's fuse box. Transcend's hardwire power cable has built-in power protection circuitry to prevent damage to either your vehicle or your DrivePro dashcam in the case of a short circuit or power surge.
Learn more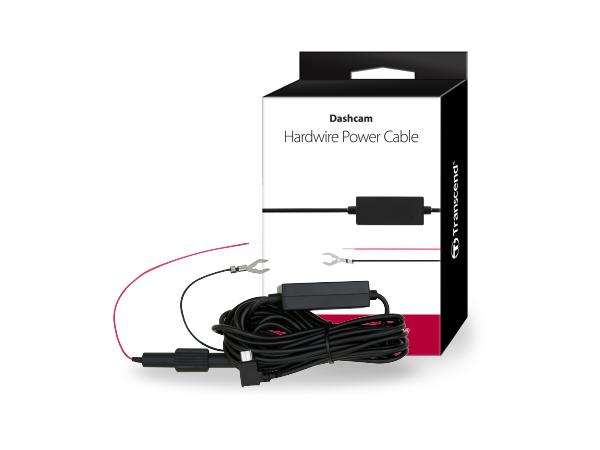 Specifications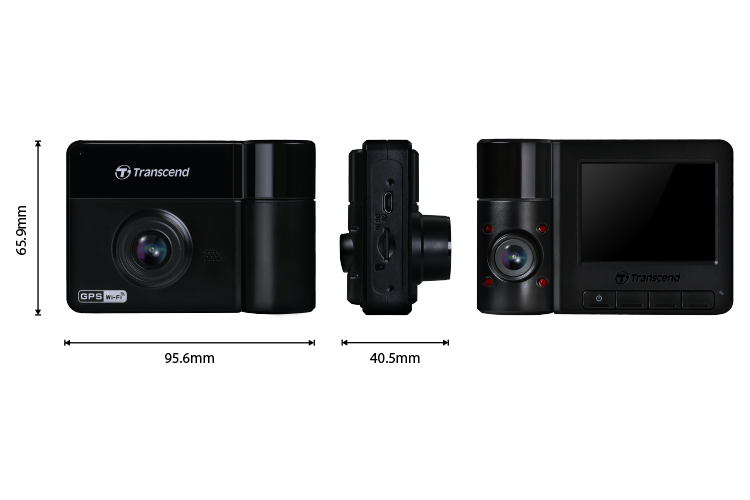 Appearance

Dimensions

95.6 mm x 65.9 mm x 40.5 mm (3.76" x 2.59" x 1.59")

Weight

107 g (3.77 oz)

Interface

USB Type

micro USB to car lighter adapter

Connection Interface

Wi-Fi Protocol

Storage

Capacity

64GB microSD card included

Hardware

Display
Viewing Angle
150° (diagonal)
Viewing Angle (Rear)
130° (diagonal)
Aperture
F/2.2
Aperture (Rear)
F/2.0

Operating Environment

Operating Temperature
-20°C (-4°F) ~ 65°C (149°F)
Storage Temperature
-25°C (-13°F) ~ 70°C (158°F)
Input Voltage (Power cable)

12V ~ 24V

Output Voltage (Power cable)

5V / 2A

Note

Do not operate the DrivePro dashcam while driving.
If the lighter socket in your car continues to provide power after the engine is switched off, unplug the DrivePro when the engine is off or idling to reduce unnecessary power consumption and prevent malfunction.

Format

Resolution
Resolution (Rear)
Frame Rate
60/30 fps

Video Format

Warranty

Certificate

CE

/

FCC

/

BSMI

/

NCC

/

MIC

/

KC

/

RCM

/

EAC

/

UKCA

Warranty

Two-year Limited Warranty

Warranty Policy

Please click

 

here

 

for more information about the Transcend Warranty Policy.
Transcend's warranty does not apply to the improper usage of product, including the following conditions:

Use of a non-Transcend car adapter
Product modifications
Use of product in abnormal temperatures

Package

Package Contents

Full unit

/

64GB microSD memory card

/

Car mount

/

Car lighter adapter

/

Quick Start Guide

System Requirement

Operating System

Microsoft Windows 7 or later
macOS 10.10 or later
Linux Kernel 2.6.38 or later

Memory Card Supported

32 GB

/

64 GB

/

128 GB

/

256 GB

Note

In addition to the bundled microSD card, we recommend Transcend's High Endurance microSD cards or MLC-based memory cards to ensure the best recording performance.
---
We Also Recommend